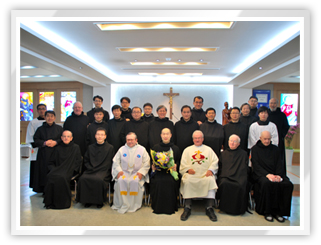 Religious life is a way of life specially called by God. It is well expressed in the Documents of Vatican II Council saying that the religious are called in a special way to follow Jesus Christ.
The religious bind themselves to the Lord by vows, following Christ, who was chaste and poor. He redeemed and sanctified mankind through obedience even to the death of the Cross. (Art 1. Adaptation and Renewal of Religious Life, Perfectae Caritatis, Proclaimed by His Holiness)

Religious Vocation is a gift from God and the religious are the witnesses of God's Kingdom.

The Brothers of St. John of God Order practice our charism and the five values - Hospitality, Compassion, Respect, Justice, and Excellence for the poor, the marginated, and the sick following the evangelical model of Jesus Christ and the spirit of St. John of God even unto death.